Demo Overview
The tutorial provides a how-to guide for applying end-to-end security enforcement across a sample Java Web environment. Security concerns covered are authentication, authorization, confidentiality and audit trail. Both declarative and programmatic enforcement controls will be used.
More info here:
The Anatomy of a Secure Web App
---
Prerequisites
Debian or Redhat Linux machine with OpenSSL installed
Java 8 SDK installed.
Setup of LDAP server by completing the the Apache Fortress Core Integration Tests in either of these two quickstarts: Pick One:

OpenLDAP: README-QUICKSTART-SLAPD sections 2 and 3
---
Demo Installation Instructions
Tutorial installation requires completion of these sections:
---
Demo Security Architecture Overview
The following block diagram illustrates the layered approach used to enforce security in this tutorial: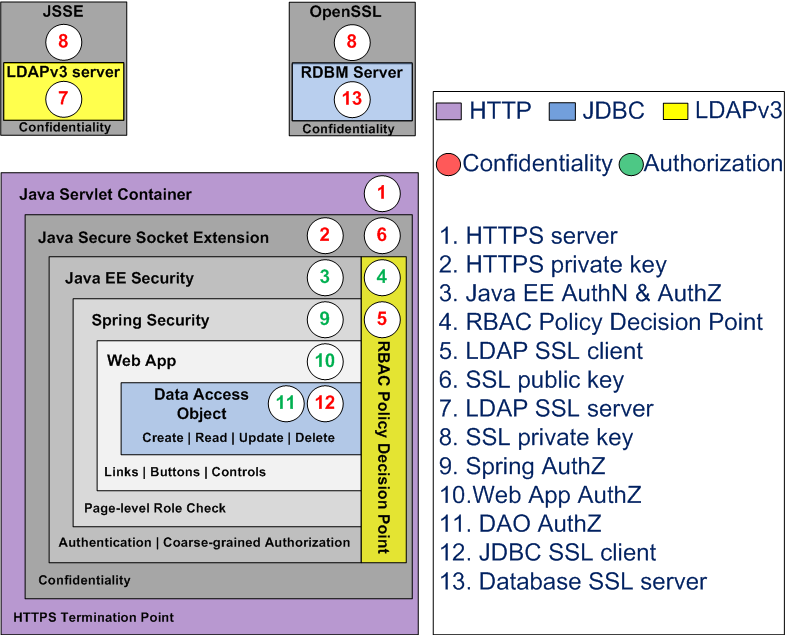 ---
Getting Started - Generating the tutorial's how-to guide
This tutorial uses javadoc that is contained within the apache-fortress-demo web application. To generate, follow these instructions:
Download and extract bundle:apache-fortress-demo source bundle from GitHub

Or clone:


            


git clone https://github.com/shawnmckinney/apache-fortress-demo.git
            


        

Change directory into the project:


                    


cd apache-fortress-demo
                    


                

Set java and maven home


Build the javadoc for this package:


                    


mvn javadoc:javadoc
                    


                

Point your web browser to the javadoc: file:///[apache-fortress-demo]//target/site/apidocs/overview-summary.html.


Complete the sections under Demo Installation Instructions section
---
Infrastructure Installed During this Tutorial
Infrastructure Configured During this Tutorial
---
Security Functions Covered
This sample Web application shows how-to do the following:
Java EE Authentication with UserId and Password
Java EE Coarse-grained Authorization using Roles
Spring Coarse-grained Page Authorization using Roles
Medium-grained Authorization inside Web Framework using RBAC Roles and Permissions
Fine-grained Authorization inside Data Access Objects using RBAC Permissions
HTTPS Confidentiality
LDAP v3 Confidentiality
JDBC Confidentiality
---
These concepts apply to other Web application infrastructure configurations. If you find security flaws, or have questions about Apache Fortress, submit to
Apache Fortress Discussion list
.
This is free and unencumbered software released into the public domain. Generated 2018-09-13T14:58:52Z.